Episode 223: Older Women Who Date Younger Men
September 12, 2023 by Justin Lehmiller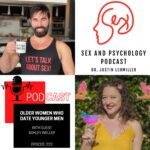 Whenever an older female celebrity dates a younger guy, it tends to make the news. These women, often referred to as "cougars" or "MILFS," have long had their relationships subject to scrutiny and stigma. However, the narrative around them has shifted, and nowadays, they're frequently celebrated in the media. Case in point: the recent arrival of the popular reality series MILF Manor, a show in which a group of middle-aged moms date each other's sons. In today's show, we're going to dive into why so many older women are into younger guys, what their relationships are like, and do a little analysis of MILF Manor.
My guest today is Ashley Weller, a Human Sexuality and Health Psychology Professor at Chapman University in Southern California. She hosts a podcast called What's Your Position that tackles issues surrounding sexuality, relationships, life, and love from a comedic yet educational point of view.
Some of the topics we explore include:
How common are age-gap relationships?
Why might an older heterosexual woman want to date a significantly younger guy?
Is MILF Manor a sign of progress, or is it feeding stereotypes around women and aging?
We also explore the dynamics between moms and their sons on the show, the unrealistic beauty standards older women are held to, and why a show that was designed to facilitate sexual and romantic connections struggled to produce matches.
You can find Ashley on Instagram and check out her Linktree to stay connected.
Thank you to our sponsors!
Are you passionate about building a career in sexuality? Check out the Sexual Health Alliance. With SHA, you'll connect with world-class experts and join an engaged community of sexuality professionals from around the world. Visit SexualHealthAlliance.com and start building the sexuality career of your dreams today.
***
Want to learn more about Sex and Psychology? Click here for previous articles or follow the blog on Facebook, Twitter, or Reddit to receive updates. You can also follow Dr. Lehmiller on YouTube and Instagram.
Listen and stream all episodes on Apple, Spotify, Google, or Amazon. Subscribe to automatically receive new episodes and please rate and review the podcast!
Credits: Precision Podcasting (Podcast editing) and Shutterstock/Florian (Music). Image created with Canva; photos used with permission of guest.
...
---
Written by
Dr. Justin Lehmiller
Founder & Owner of Sex and Psychology
Dr. Justin Lehmiller is a social psychologist and Research Fellow at The Kinsey Institute. He runs the Sex and Psychology blog and podcast and is author of the popular book Tell Me What You Want. Dr. Lehmiller is an award-winning educator, and a prolific researcher who has published more than 50 academic works.
Read full bio >